Miniature Schnauzer Puppies For Sale Near Stamford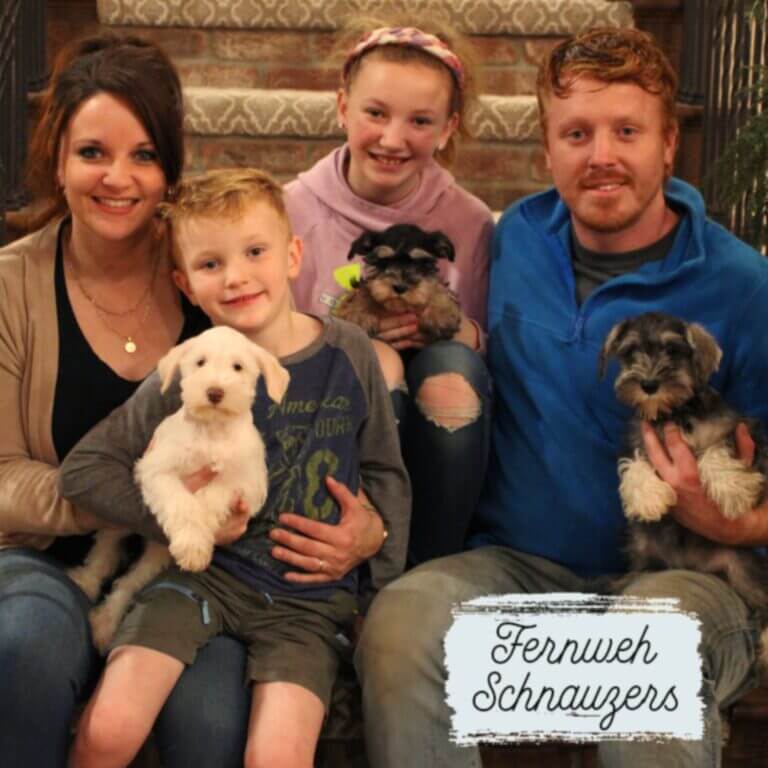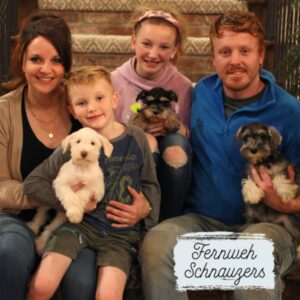 Yes, we have Stamford miniature schnauzer puppies for Sale!
As Miniature Schnauzer Breeders located in Northern Indiana, we are a short drive from Stamford, Connecticut.  At Fernweh Schnauzers, we specialize in breeding health tested, well rounded miniature schnauzer puppies for sale in a family oriented environment.  We health test all of our parents and rely on a support system of schnauzer expert veterinarians to maintain one of the highest quality breeding programs in the country.
"Before scrolling down this page, please check out more articles about Fernweh Schnauzers breeding program."
1.  Get to know the Wysongs – owners behind Fernweh Schnauzers
2.  Fernweh's Puppy Socialization Program
3.  Healthy Genetics – Fernweh's Focus on healthy bloodlines
___________________
All of our miniature schnauzer puppies undergo a rigorous socialization program and early neurological stimulation.
Because we are miniature schnauzer breeders with a young family, our children play an integral part of early puppy stimulation.  We intentionally introduce our miniature schnauzer puppies to as many stretching experiences and environments as possible to prepare them for life outside of our home.
If you are interested in Miniature Schnauzer and located near Stamford, feel free to reach out to us!
If you are in the market for a new miniature schnauzer companion, feel free to contact us and start a conversation.  If you do decide that we are a good fit we are only a short drive away!
FREQUENTLY ASKED QUESTIONS
What color of Miniature Schnauzer Puppies do you breed for?
While health is certainly our first priority, our genetics do occasionally throw different color options.  If you are located in Stamford, CT and looking for a specific coat type, we might have what you are looking for.  We currently specialize in producing salt and pepper, black and silver, black, white, parti, liver, and chocolate.
Do your Miniature Schnauzer Puppies do well with children?
The foundation of our socialization program is our children.  It is certainly easier to raise well rounded Schnauzer puppies when they are constantly interacting with children.  This creates a foundation that ensures their future interactions with children will certainly not be their first.  We also are firm believers in introducing our Schnauzers to new experiences and environments.  All of our Stamford, CT residents will be happy to know that we certainly value socializing our Miniature Schnauzer Puppies.
What are the steps of your adoption process if I am located in Stamford, CT?
1. Check out our available Miniature Schnauzer Puppies page. At times, we have available puppies but almost always have a waiting list as well.  A quick look at our available puppies is the starting point to begin the process.
2. Send us an email fernwehschnauzers@gmail.com or give us call 260-267-6478 so we can discuss whether we are a good fit for your family.
3. If approved to adopt one of our puppies you are welcome to place a deposit to hold until your puppy is ready to go home.