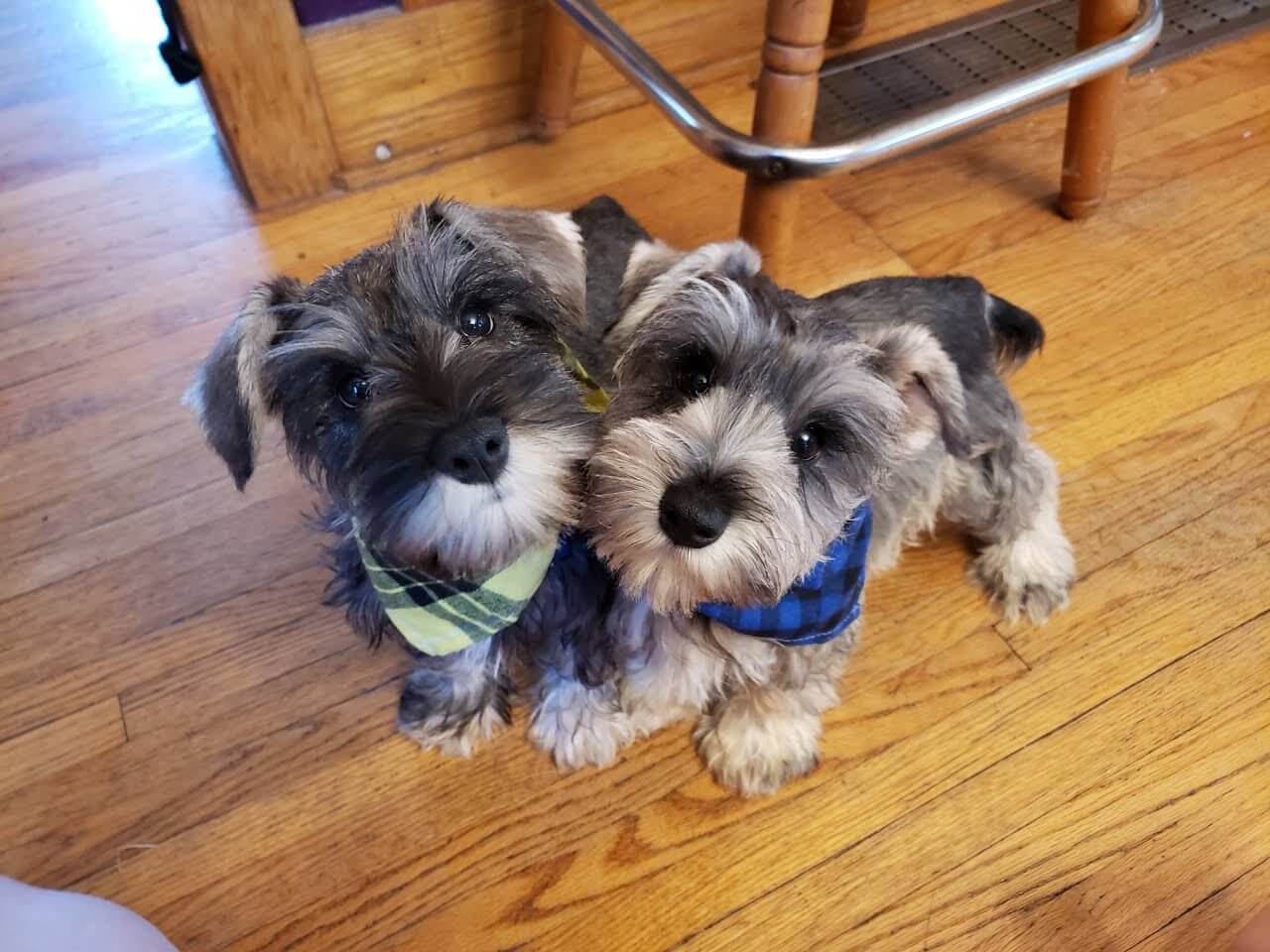 Potty training a new puppy is always a difficult task. It requires knowledge of your puppy's needs and adherence to a routine that meets them.
It can be challenging for people living in an apartment to take a puppy potty right when they need to go. They might not have access to a grassy yard, making it difficult to take a puppy potty quickly.
But, there is hope. Schnauzers are intelligent dogs that can potty train quickly with the right support.
Routine
Schnauzers thrive on routine. Schedule everything from the time you take them potty to when they eat as part of your shared routine.
You can adjust the routine to match your schedule, but there are a couple of things to remember.
A puppy should be going potty approximately every three hours, but up to four hours.

Your puppy will need to go potty approximately ten minutes after they eat. That means you need to schedule potty times around feeding times.
The Crate
A crate is an excellent tool for potty training. We recommend keeping the puppy in the crate at night. If they have an accident, it won't be cleaned up immediately. That cause and effect will make them less likely to have an accident again.
Other things that can help
If you live in an apartment, you won't be able to take your puppy potty quickly. That means you'll need to anticipate their needs and recognize the signs that they need to go.
Dog walkers
If you work and won't be available to take your puppy potty regularly, having someone to take them potty will help. It's unfair to blame a puppy for an accident if they had to wait hours to go potty.
Doggy Daycare
Quality doggy daycare can be a great resource. However, there is a risk of infection and disease or aggression from the other dogs.
If you plan to use a daycare, do some research to ensure that the daycare you choose is well-reviewed and has enough employees to care for all the dogs. Your puppy can go to doggy daycare after they are about twelve weeks old and fully vaccinated.
Grass puppy pads
A grass puppy pad is a pad of real or fake grass that you can keep on your balcony or in your apartment for your puppy to potty quickly. It gives your puppy a place to potty without leaving the apartment. You can use a faux grass pad and clean it off or subscribe to services like Fresh Patch that will send you a patch of fresh grass on a regular schedule.
It's a great option if you don't have time to take your dog out every day or don't have a yard for your puppy to potty in.
Schnauzers are easy to potty train. With consistent reinforcement, they can potty train in no time, even in an apartment.